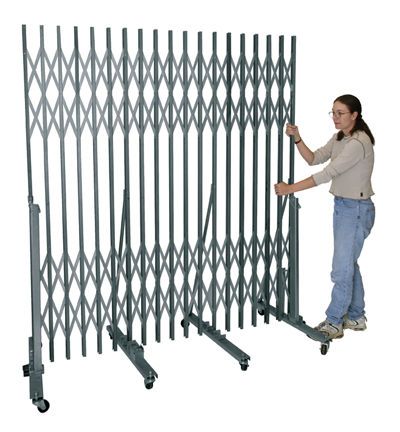 Superior® Portable Gates
Features:
In stock for shipment within 5 days of reciept of order
quick and easy installation, install between two walls instantly without anchors to walls or floor
simplified, patented pressure lock system
floor anchors are not required but are available for special installations
compact, fold-up size and heavy duty swivel casters make moving and storage easy
flated finish
padlock hasp is standard
cylinder locks are available for additional security
two or more gates can be joined together for larger expanse
Here's how the exclusive Superior® Pressure Lock System works:
1. Raise unit retainer channel to vertical position and secure
2. Extend gate until rubber bumpers touch both walls
3. Lower the male lock channel (with pin) until it rests on carriage channels within guides and locking bracket.
4. Lower female lock channel (with adjustment holes) until it rests within the male lock channel with pin. Pin need not engage a hole in female lock channel.
5. Raise both channels until pin engages the hole immediately to the right. Applying moderate pressure, push
both channels down until they rest within guides and locking bracket. Lock in position.
Five Sizes to Choose From
Connect multiple gates to together for wider applications.
Model
For Openings
Collapsed Size
Height
Weight (lbs)
P601-06
3' 6" - 6'
19" x 30"
78 1/2"
193
P601-09
6' - 9'
19" x 30"
197
P601-12
7' - 12'
24" x 30"
254
P601-15
11' - 15'
30" x 30"
311
P601-18
13' - 18'
30" x 30"
374
PG-CL
Cylinder Locks
PG-FAA
Floor Anchors
PG-A
Additional Anchors
GREENGUARD Certificates:
Photos: