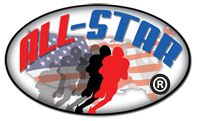 All-Star
®

Sport Lockers

THE SPORTS LOCKER THAT SETS THE STANDARD...

The All-Star sport locker line represents the highest level of quality, functionality and durability of any sport locker currently offered in the market today.

All-Star athletic lockers feature our exclusive Hollow-T framing system, 1/2" expanded metal sides for maximum ventilation, safety, rigidity, and interlocking body components creating a functional yet sturdy sports locker guaranteed in writing to last a lifetime.

The versatility of our Hollow-T framing system allows you to customize a locker to meet your specific requirements.
Locker Sizes:

Widths:
12", 15", 18", 24", 3-", 33", 36"
Depths:
12", 16", 18", 22"
Nominal Column Heights:
60", 72", 84"
Notes:
- Actual locker column height is 2-3/4" over nominal column heights shown for 60" and 72" models. 84" high models will be 84" actual.
- All-Star lockers will ship in multiple column units up to 60" wide to meet individual jobsite conditions.
GREENGUARD Certificates
Photos: