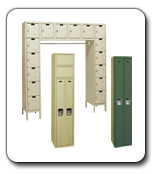 Superior®
Classic KD Specialty Lockers -
Doors 18" high and under
Designed to meet special locker needs when you are looking for a practical, space-saving, yet economical locker solution. Ideal for multi-purpose use.
Classic KD Specialty lockers are available in four standard types:
Duplex:

Duplex metal lockers are the most economical full length locker available. This locker conserves valuable floor space, yet provides ample height for hanging full length garments. Duplex lockers provide two completely private lockers in each frame. One hat shelf and two single hooks are standard in each wardrobe opening. Coat rods are optional for 18" and deeper models.
Two-Person:

Two-Person steel lockers provide ample storage space for two users in a 15" or 18" wide space. Upper box doors are controlled by command latches located in the corresponding lower compartment. Two single hooks per wardrobe opening are standard. Coat rods are optional for 18" and deeper.
Sixteen-Person:

Sixteen-Person metal kd lockers are the economical solution for personal security along with hanging space for full length garments. Ideal for student & teacher lounges, offices, commercial and retail establishments. 48" coat rod is included. Sixteen-Person lockers are standard with 6" high legs.
Four-Wide Wall Mount:

Wall mount metal lockers provide ample additional storage space for 4 persons. Wall mount lockers can be used as supplemental storage in combination with other lockers or in specific applications where floor space is limited and storage requirements must be met. 48" wide under-mount coat rod is optional.
| | | | | |
| --- | --- | --- | --- | --- |
| Type | Width | Depth | Opening Height | Frame Height |
| Duplex | 15" | 12", 15", 18", 21" | 60", 72" | 60", 72" |
| Two-Person | 15", 16" | 12", 15", 18", 21" | N/A | 60", 72" |
| Sixteen-Person | 72" | 18" | 12" | 78" (with 6" legs) |
| 4-Wide Wall Mount | 48" | 18" | 12" | 14-3/4" |