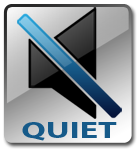 Quiet & Whisper Quiet
KD Wardrobe Lockers
Standard Quiet lockers are constructed exactly like our Classic KD lockers except the door is furnished without louvers to limit air rush through the door providing quiet operation. Perforations on upper and lower door flanges allow for concealed ventilation.
Quiet wardrobe lockers are sold in various colors and multiple tier options.
Single Tier
The most practical and commonly used style of locker providing ample height for hanging of full length garments.
Double Tier
Where full length hanging of garments is not required or where space limitations do not allow for use of single tier lockers, double tier lockers offer an economical alternative.
Triple Tier
Triple tier lockers are ideal for use where storage of long garments is not required.
Features:
body construction: Knock down (KD) with 24 gauge solid body components
doors: 16 gauge plain doors (18 gauge for 9" wide), sound deadening panel for Whisper Quiet lockers only
frame: 16 gauge frame with 16 gauge horizontal cross member between doors on double and triple tier wardrobe lockers
handle: Deep-drawn stainless steel recessed handledoor strike: Continuous vertical door strike at both hinge and latch side
latching: 12 gauge latch hooks MIG welded to frame. Gravity lift-type multi-point spring loaded latching:

3-point latching for openings 48" high and higher
2-point latching for openings 20" high thru 36" high
Isolated latching mechanism for Whisper Quiet only

hinges: 16 gauge continuous piano type
hooks: 2-single hooks and 1-double hook is standard. 1- double hook only for triple tier and 1-double and 1 - single hook for 9" wide openings 30" and higher
shelves: Hat shelf for single tier openings 60" and 72" high
notes: All production KD lockers are supplied without legs unless otherwise specified. Standard Quiet and Whisper Quiet lockers are available with plain doors only. Additional perforations/louvers in the door will increase decibel levels thus reducing the efficiency of our quiet design.
warranty: 2 years
| | | | | |
| --- | --- | --- | --- | --- |
| Tier | Width | Depth | Opening Height | Frame Height |
| Single | 9", 12", 15", 18", 24" | 12", 15", 18", 21", 24" | 36", 48", 60", 72" | 36", 48", 60", 72" |
| Double | 9", 12", 15", 18" | 12", 15", 18", 21", 24" | 30", 36" | 60", 72" |
| Triple | 9", 12", 15" | 12", 15", 18", 21", 24" | 20", 24" | 60", 72" |
Photos: