Aquamax™
Completely Rust Proof
Aquamax Solid Plastic Lockers are Ideal for applications where high humidity, moisture and water are present. Plastic lockers are fabricated from solid high density polyethylene panels (HDPE) for maximum strength and durability while providing corrosion resistance to most common chemicals.
Advantages:
• Scratch Resistant
• Corrosion Resistant
• Impact and dent resistant
• Easy to clean
• Mildew and odor resistant
• Graffiti resistant (pencil, pen, paint and most common markers)
• Chemical Resistant
Features:
BODY CONSTRUCTION: Corrosion Proof High Density Polyethylene (HDPE), with 3/8" thick body panels
BODY STYLES: Single, double, triple, six tier and z-tier
HINGES: heavy-duty continuous full height extruded aluminum with a powder-coat finish to match color of door
HANDLE (wardrobe): Projecting solid plastic handle with lift-type latching
HANDLE (box): Single-point thru-the-door projecting friction catch door pull with padlock hasp
SHELVES: Hat shelf is included in single tier lockers.
HOOKS: 2 single-prong hooks in single and double tier lockers.
Key Design Features:
Mortise and Tenon construction provides superior strength with stainless steel fasteners to hold the locker together, no plastic welds or butt joints
Full overlay design of the locker, similar to a European design cabinet. "Look, no face frame"
No face frame allows for full entry into the locker.
Door sits away from the box of the locker creating "perimeter ventilation" the need for slots or vents in the door are eliminated as it creates 7 times the amount of ventilation than a typical metal locker. However holes can be added to the locker door to create additional ventilation.
Ventilation holes are built into the locker box surfaces to allow air flow through the locker.
Hinge side panel leaf is connected to the entire length of the locker side panel. It is also trapped in place by the shelves, top and bottom of the locker.
Hinge wraps around the door which captures the door on three sides. The screws are tri-lobular which bite into the poly material. No need for inserts.
Hinge is made of 1/16" aluminum that is powder coated and has a 1/8" diameter stainless steel pin. The segments of the hinge are separated by two poly bearings that allow the hinge to swing smoothly.
Latching mechanism is a multi point latching system. The latching bars are engaged into the locker side panel. The second is the hasp bar is attached to the side of the locker, not the back of the door. This creates TWO locking systems in one.
Doors will close without the need of having to lift the handle on the front of the door. Our doors can be pushed shut.
Adjustable mounting feet will allow the lockers to be installed on a base that can be fitted to the room. There is an 1 ½" of adjustment, from 4" to 5 ½".
Lockers can be fitted with a sloped top, even after the installation is completed.
Lockers are modular which allows the room to be reconfigured. It also allows different combinations of lockers to be installed side by side.
Stock Sizes:
All Taupe or Taupe body with Blue doors, 12x18x72 single, double, triple, six and Z-tier configurations.
Production Sizes:
Width             9", 12" 15", 18"
Depth            12", 15", 18"
Height            60", 72"
Configurations: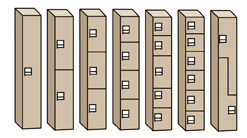 Colors: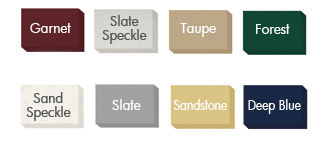 Photos: