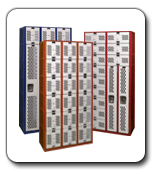 P.E. Series -
Fully-Framed All-Welded Lockers
Superior® P.E. lockers are the solution when space is at a premium.
Heavy gauge fully-framed all-welded construction combined with modern features and the design flexibility of our Hollow-T framing system allows you to customize your locker room environment to be user friendly, maximize space and improve supervision, all without compromising the architectural esthetics of the room.
Features:
body construction: Fully-framed all-welded Hollow-T construction, 13 gauge 1/2" fully-framed
flattened expanded metal sides, 16 gauge continuous top, 18 gauge solid back, 16 gauge galvanneal bottom
doors: 14 gauge diamond perforated doors are standard. Louvered, Security-Plus and plain door styles are available. Doors 12" high and under are standard with top hinge. Doors 15" and 18" high are standard with side hinge.
handle/latching: Top hinge doors have a projecting spring loaded heavy-duty latch/handle with
integral padlock lug. Side hinge doors have a single-point thru-the-door projecting finger pull handle with padlock hasp. Optional deep-drawn seamless stainless steel recessed handle is available for side hinged gym doors (10" high and higher) and will utilize our Marquis style thru-the-handle single-point no moving parts latching and include two 13 gauge 7-knuckle 3-1/2" hinges
hinges: Top hinge doors use a concealed 3/16" continuous rod. Side hinge doors use two heavy-duty 13 gauge 7-knuckle 3-1/2" hinges. Optional side hinged doors 8" and 9" high will have special hinges
hooks: None
shelves: 16 gauge galvanneal intermediate shelves
warranty: Lifetime
sizes: visit Space Management page for size information




GREENGUARD Certificates:
Photos: